Blackout Poetry Take-and-Make Kits Available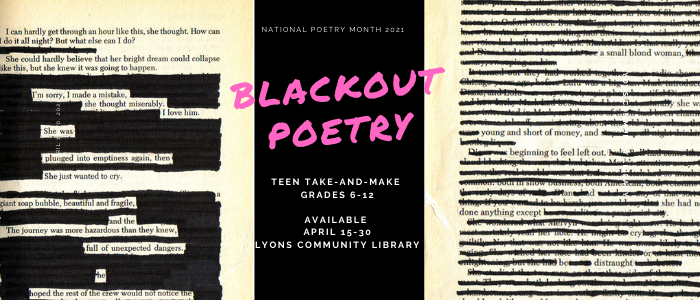 Students in grades 6-12 can also celebrate National Poetry Month by picking up a Blackout Poetry Take-and-Make Kit from the library between April 15th and April 30th! Blackout poetry involves using discarding book pages to create a poem from found words, and "blacking out" the rest. Kits will include examples, book pages, and one black marker to keep.
Share a photo of your poetry on your Instagram and tag us @lyonscommunitylibrary for all to see and to be entered in a drawing to win a poetry compilation. Not into Insta? Send us an email with a photo of your poetry to info@lyonslibrary.com.
Middle Grade Book Talks (Ages 7-12)
Hear about some great new books for readers ages 7-12 that are available at the library!  Whether you like scary stories, funny stories, or graphic novels, there is something here for every reader.