Summer Reading 2019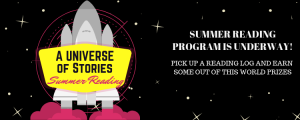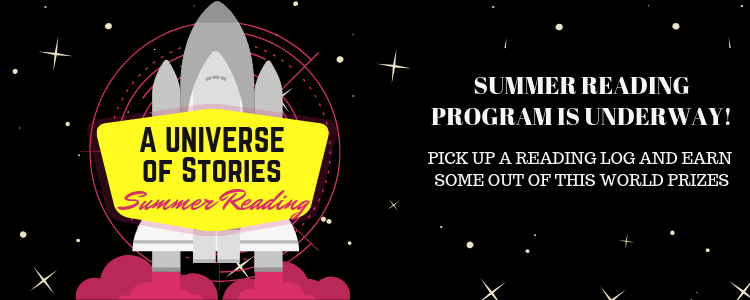 The 2019 Summer Reading program is underway! The Library encourages readers to continue learning throughout the summer with the return of its Summer Reading program. This year's theme, which commemorates the 50th anniversary of the moon landing, is "A Universe of Stories" and inspires readers of all ages to dive into the realm of space exploration.
Stop by and pick up one of these Space related titles:
● Space Case: A Moon Base Alpha Novel by Stuart Gibbs (2014)
● CatStronauts by Drew Brockington (2017)
● The Daredevil's Guide to Outer Space by Anna Brett (2019)
● Charlie and the Great Glass Elevator: Charlie Series, Book 2 by Roald Dahl (1972)
● Honor Among Thieves by Rachel Caine (2018)
● Chicken in Space by Adam Lehrhaupt (2016)
Summer is the best time to read for fun, and the annual Summer Reading Program provides even more incentive to read with awesome prizes for achieving reading goals tracked with the reading logs you can pick up at the Library.
Summer Reading Programming will include:
Henna for Teens on Tuesday June 17th from 2:00pm to 4:00pm. This program is open to youth entering 6th grade and up.
Lego Engineering Carnival Creations with PlayWellTEK on Saturday June 22nd from 2:00pm to 4:00pm. This program is open to youth ages 5-12.
Both of these Program require registration; please call the library at 303-823-5165 or email McCourt at mccourt@lyonsregionallibrary.com.
You can stop by the Library Mondays-Saturdays at 405 Main Street, call us at (303)823-5165, like our page on Facebook, or visit us online anytime.
National Mental Health Month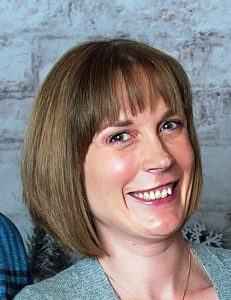 May is National Mental Health Month. According to the National Alliance of Mental Illness, 20% of youth ages 13-18 live with a mental health condition and one in every five adults in America experience a mental illness. Mental health affects everyone regardless of socioeconomic status, culture, ethnicity, gender or sexual orientation; yet fewer than 60% of adults and 50% of youth receive mental health services. This lack of treatment is a culmination of lack of information, availability of treatment options, and the social stigma associated with mental illness.
The library is a proud partner of the Lyons Mental Health Initiative (LMHI), who will be hosting a Community Conversation on Mental Health led by Janaki Jane starting at 6:30pm on Tuesday May, 28th at the Lyons Community Church. This May , let's continue the discussion in our community about mental health, let's continue to reduce the stigma attached to mental illness with increased education. Now is the perfect time to learn more about mental health, reach out to help others who may be suffering, and find resources for treatment in our community.
Take time to educate yourself on mental illness with these books available at the Library.
● No One Cares About Crazy People: The Chaos and Heartbreak of Mental Health in America by Ron Powers (2017)
● How to Change Your Mind: What the New Science of Psychedelic Teaches Us About Consciousness, Dying, Addiction, Depression, and Transcendence by Michael Pollan (2018)
● First, We Make the Beast Beautiful: A New Journey Through Anxiety by Sarah Wilson (2018)
● Another Kind of Madness: A Journey Through the Stigma and Hope of Mental Illness by Stephen P. Hinshaw (2017)
● My Lovely Wife in the Psych Ward: A Memoir by Mark Lukach (2017)
We can all make wellness a priority in our lives with the resources of our community and the Library at your fingertips. If you would like more resources on mental wellness please check out the Mental Health Resources Guide available at www.lyons.colibraries.org/mentalhealth; if you are having a mental health emergency call 1-844-493-8255.
You can stop by the Library Mondays-Saturdays at 405 Main Street, call us at (303)823-5165, like our page on Facebook, or visit us online anytime.
Library News
May 2019
By Rebecca Schuh
Friends of the Library Book Sale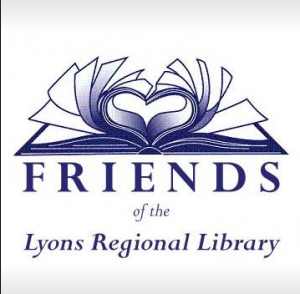 Friends of the Library
The Friends of the Lyons Regional Library District will be hosting a used book sale at the same time as "Lyons Clean Up Day" from 9:00am – 1:00pm on Saturday, May 18th. Bring along books that you would like to donate and check out what treasures you can bring back home! Books will be accepted and sold on Second Ave, across from the Clean Up Day site at the wastewater treatment plant. All proceeds will benefit the Lyons Library.