Architect Dennis Humphries answers questions at our April 20th, 2017 Open House
at Oskar Blues Grill & Brew.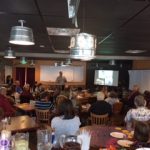 Meeting Schedule
All Library Board meetings are held at 6pm on the third Tuesday of the month at the Library, 405 Main Street, Lyons, CO 80504 unless otherwise noted. Town of Lyons Council Chambers are located at Lyons Town Hall at 432 5th Ave., Lyons, CO 80540. 
Next Board meeting: May 8, 2018 at 5pm (note early start)

Next Building Committee Meeting: TBD, 10am-1, 385 Vasquez Court, Lyons.
Governance
The Lyons Regional Library District was created in September 2013 to build and operate a new library following the disastrous flood that destroyed much of the library and the Town of Lyons. On July 1, 2015, the Library officially became the Lyons Regional Library District and began to serve its expanded population. The Library District generally covers the same area as the Lyons Fire Protection District and is governed by a separate board of trustees appointed by the Town of Lyons, Boulder County and Larimer County.  The Lyons Regional Library District serves people in both Boulder and Larimer counties.
All Library Board of Trustee meetings are open to the public.
Lyons Regional Library District Bylaws 2018
Current Board Members:
Kathleen Crane, President
Lori Adams-Weaver, Vice President
Erin Biesiada, Treasurer
Darcie Sanders, Secretary
Lisa Sobeniak, Member-at-Large
Sarah Catchpole, Member-at-Large
Sandy Banta, Member-at-Large
Contact the Board by email at board@lyonsregionallibrary.com or write to Lyons Regional Library District Board, PO Box 619, Lyons CO 80540.
Board Meeting Minutes
2018:
2017:
November 28; includes Public Hearing
September 12; Special Board Meeting
August 24; Special Board Meeting
Minutes of a Special Board Meeting Public Hearing on the Amended 2017 Budget
April 6; Special Board Meeting
February 7; Special Board Meeting
January 26; Special Board Meeting
January 5; Special Board Meeting
2016:
October 4; Special Board Meeting
September 23; Special Board Meeting
September 8; Special Board Meeting
Library District Budget
Library District Annual Report
2016 Final Amended Status Report
Board Policies and Procedures
Capital Project Financial Policy
Lyons Regional Library Financial Policy