Upcoming Events
Aug
21
Wed
2019
All Ages Storytime plus Craft

@ The Lyons Regional Library District
Aug 21 @ 10:30 am – 11:30 am
Homeschool Q & A

@ Lyons Community Library
Aug 21 @ 6:00 pm – 7:00 pm
Are you interested in Homeschooling? Are you new to the process? Or are you an experienced Homeschooler looking for new ideas and to grow your community?
Join our Homeschool Support Group at the Lyons Community Library. Our kick-off Q&A event is Wednesday, August 21st, from 6-7 pm in the Community Room.
No registration necessary.
Aug
24
Sat
2019
Art-4-Art Trading Cards

@ The Lyons Regional Library
Aug 24 @ 12:30 pm – 1:30 pm
Library News
Building Update June 2019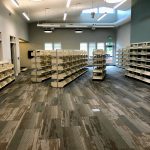 The current downtown location will close at the end of operating hours (5 p.m) on Saturday, July 13th for the move into the new library building located on 4th Ave. Library staff anticipate opening the new library on Thursday, August 1st. During the first week of the move to the new location the Friends of the Library will be organizing a moving sale at the downtown location, so be on the lookout for official dates. Read more Summer Reading 2019
he 2019 Summer Reading program is underway! The Library encourages readers to continue learning throughout the summer with the return of its Summer Reading program. This year's theme, which commemorates the 50th anniversary of the moon landing, is "A Universe of Stories" and inspires readers of all ages to dive into the realm of space exploration. Read more This is the preview of the "View" View.