By Darcie Sanders, Lyons Regional Library District Trustee
New Library Progress Update
The dramatic progress on the new building is visible for all to see. The exterior siding is painted its final dark gray color. The new windows with their handsome ox-blood red trim are all in. The temperature needs to be above 35 degrees F for exterior stonework, and weather-permitting that work will recommence until the fireplace reaches its full 27-ft height. Inside, the stonework on the fireplace in the reading room is already complete. In the coming weeks gas and electric will get hooked up and drywall installed. Staff is busy finalizing furniture and equipment. Despite a run of rather bad winter weather we are still on schedule for a summer opening. Big thanks to Bernardo Chavez and the construction crew who have been coming in on Saturdays as necessary to keep us on track. Sometime in April look for the construction trailer to leave the site and landscaping work to start.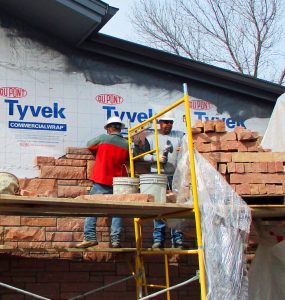 Being the creative community that we are, we have already starting getting inquiries for art placement. We want to let the community know that art selection and placement is very important to us, and therefore will not actually take place until after the opening. Why this hold off? Because the furnishings and signage placement we have on opening day may very well change as we tune operations. Once those placements are reasonably settled, we will then be able to place art. Thank you for your patience!
You can stop by the Library Mondays-Saturdays at 405 Main Street, call us at (303)823-5165, like our page on Facebook, or visit us online anytime at https://lyons.colibraries.org.