Come join the Lyons Library and the Lyons Community Farm Project for a spring seed event! This is an in-person event on the library patio! No need to register. Stop by when you can! May 14th, pm1-4pm & May 15th, 10am-1pm.
Bring any Non-GMO and organic seeds or starter plants that you don't need this season. Donate them to the Library Seed Bank or exchange them with friends and community members. For example, you can bring your extra beet seeds and pick up some arugula seeds that your neighbor shared. The Lyons Community Farm Project will have seeds and plants to share as well.
All extra seeds which are not picked up will go to the Library Seed Bank, a free community resource for all! Our town is lucky to have two seed bank options- one at the Library and one at Ralph's!
Donations of organic seeds for the Library Seed Bank are welcome throughout the growing season and beyond and can be dropped off at the library.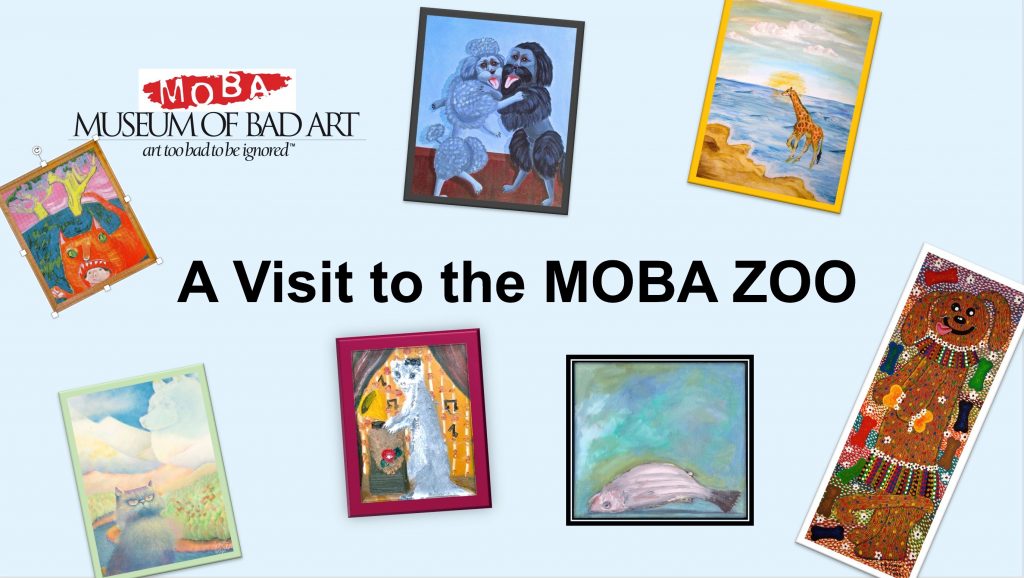 We are thrilled to welcome back the Museum of Bad Art (MOBA) for another night of culture and comedy for the Lyons Library community!
A Visit to the MOBA Zoo: In this month's session, we see that MOBA artists love to capture their furry, feathered, fishy friends! This collection of sincere, original art includes treasured pets, exotic creatures in the wild, and animals that exist only in the artist's imagination.
The Museum of Bad Art: Collects, exhibits, and celebrates art that will be seen in no other venue! Since 1993, they have collected art from thrift stores, yard sales, sidewalk trash, and even the artists who create it. They analyze, compare to classic art, and share with thousands of fans around the world.
Join us on May 20th at 7pm via Zoom for this fun and unique event, hosted by Michael Frank, Curator in Chief of the Museum Of Bad Art.
About Michael Frank: Michael Frank is an acolyte who studied under the strict tutelage of the founding Esteemed Curator, and now heads the entire department. His appointment was due to his record of contributing more art to MOBA than anyone other than the Esteemed Curator and that he already had a tuxedo. A professional musician and entertainer with enviable balloon-twisting skills, he lives in Boston, Massachusetts.
Zoom link will be sent out on May 20th.
Word Wednesdays Monthly Writing Group
Word Wednesday is a great opportunity to meet other writers and get constructive feedback in a supportive environment. Facilitated by Dr. Kayann Short, PhD and open to all genres and levels. We meet the first Wednesday of each month.
The next meeting is Wednesday, June 2nd, 2021.
Click to register: https://lyons.colibraries.org/word-wednesdays/