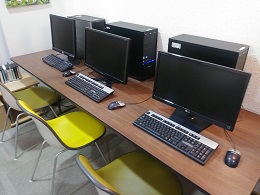 One-On-One Computer tutoring is available Wednesdays from 5-7 P.M. and Fridays, 10-12. Please call the library at 303-823-5165 or email info@lyonsregionallibrary.com to make an appointment.
There are 8 desk top computers and 3 laptops available for public use.
Microsoft Office

Internet Access

Information databases
Each Computer has access to a printer.
Black & White printouts are 10 cents per page.

Color printouts are 50 cents per page
Free Wi-Fi is available throughout the building. No log-in is necessary.