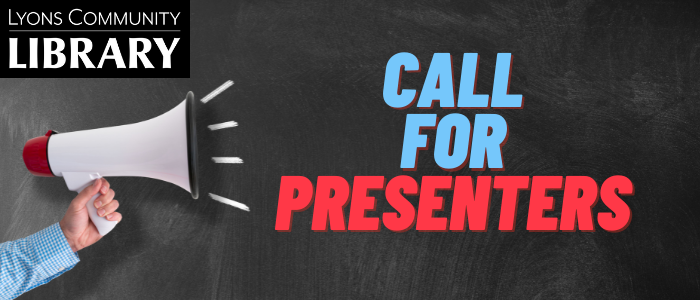 Calling Our Community!
The Lyons Community Library is seeking program presenters for 2023 and beyond.
The purpose of library programming is to bring the community together by offering opportunities for creativity, connection, and learning. Library programming is developed based on diverse community needs and interests and by using cost-effective resources and methods.
We are lucky to serve a community rich with talent, expertise, and engagement. We invite you to share your passion, skills, and experience with us for the Lyons community.
While we welcome applications based on individual areas of expertise, and aligned with our mission, we are specifically seeking:
Travel/Adventure tales and slide shows
Crafting, Art, and DIY workshops for adults and youth
Proposals for one-time workshops/presentations or a series are welcome! We operate with a limited programming budget, but can offer some stipends of up to $200.
The mission of the Lyons Community Library is to provide equitable access to resources, education, and experiences to empower individuals and enrich the Lyons community. Strong applications will make a clear connection to the library mission and will meaningfully engage the audience.
Complete a program proposal application today!
Proposals are accepted on a rolling basis. We typically plan programs 1-3 months in advance.